Details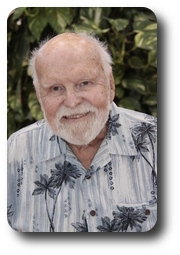 We are sad to announce that former VYC Commodore Al Burrow crossed the bar Friday, June 8. He died peacefully after a three-week battle with pneumonia.
Al was born in Long Beach, CA, July 3,1924. During WWII, he worked for 2 years as a Navy electronic technician.
From 1947 to 1949, he worked for Philco-Ford as a Tech Rep to the U. S. Air Force in Europe, mostly in Germany and Greece. He continued working for Philco on various Navy contracts until Philco was acquired by Ford Motor Co in 1961, when he moved to supporting satellite ground station facilities for the Air Force worldwide. Al developed a number of concepts such as encapsulating a trailer-based station in Thule, Greenland and providing uninterruptible power systems for these satellite tracking stations.
Al established the Facilities Engineering Department for Ford in Sunnyvale and recruited engineers in various specialties to serve for the Air Force contract.
While living in Sunnyvale in the 1970's, Al served on the Sunnyvale Planning Commission during a period of growth in that area. Al retired from Ford Aerospace Corp in 1989, after 42 years with the company. He had met Karen in 1984, and together they traveled the world again.
In the early 80's Al entered the yachting world, acquiring a new 36-foot sailboat which he berthed in Alameda. He joined Encinal Yacht Club in Alameda in 1982, serving in various capacities until becoming Commodore in 1992 and President in 1993.
Al switched to power boating in 1987, acquiring a 42 ft. twin diesel trawler, aptly named the Lady K. Al and Karen enjoyed many cruises on San Francisco Bay with the Yacht Club fleet, and on individual cruises. Achieving a yearning desire, Al cast off from Alameda in 1991 on the Lady K for a great adventure cruise to British Columbia, Canada. Karen joined Al in Seattle and they cruised the northwest waters for the summer.
After traveling around Mexico, and liking the country and the people, Karen and Al purchased a condo in Nuevo Vallarta in 2000 at the Playa del Sol, and began spending the winter months in Mexico. He served as president of the Owners Association for several years.
Continuing his yachting interests, Al joined the Vallarta Yacht Club, implementing several new programs and becoming Commodore in 2010. He made many friends in his time at VYC and enjoyed the club, especially the domino games! His last trip to the club and to the condo was in 2015 season, after which time illness prevented continuing the long stays. His last trip was for brief visit in November 2016.
Al is survived by his wife Karen Guthrie, and Al's adopted family of Karen's two adult children, Jill Jacoby and Kyle Guthrie, and the twin adult grandchildren Lauren and Jake Howry, and Karen's brothers Ron and John Karlson and families from Washington State.
Fair winds and following seas, Al. You will be missed.
A memorial service will be held for Al at Encinal Yacht Club. Karen has asked that memorial gifts be given to the Encinal Junior Sailing Program, and to the Vallarta Yacht Club Junior Sailing Program.