Last Updated on Friday, 22 November 2013 15:10

It all started 13 years ago ... the first ever Great Chili Cook-Off. Now it's

bigger and better. Not just chili, but Taste of Nuevo too!
The Marina Nuevo Vallarta malecon will be the site of the first ever Taste of Nuevo Vallarta and 13th Annual Chili Cook-off, hosted by the Vallarta Yacht Club. It will be held on Saturday, December 7th from 4pm to 8pm.
This exciting event will include the competitive sampling of outstanding chili as prepared by individuals or teams, as well as professional chefs from local restaurants. Additionally, some of the finest restaurants in Nuevo Vallarta and the surrounding area will offer tasting samples from their menus.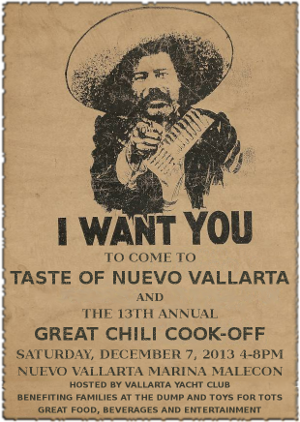 Attendees may purchase sampling tickets for $10 pesos. Each ticket will allow a "sample" of chili or any of the other type of food offered. Attendees may also use tickets to purchase bottled water, soda, beer, wine and Margaritas. Music will be provided.
Net proceeds will go to charity, evenly split between Families at the Dump and the Navy League Toys for Tots program.
Parking will be available at Marina Nuevo Vallarta and a water taxi will be available from the Vallarta Yacht Club and Paradise Village.
If you want to be a Chili cooker participant, please let VYC Manager Rudy know by phone 297-2222 or email or contact event manager Dee Cockerham 297-5001 or by email.
Last Updated on Friday, 22 November 2013 15:12
Award Winning Vocalist
Kim Kuzma Will Appear At
Vallarta Yacht Club
Monday, December 16, 2013.
Performing a mix of Adult Contemporary,
Easy Listening, Latin and Pop, this will be a show you will not want to miss!
Schedule for the evening:
6:00 - No-host bar
6:30 - Dinner


Menu includes:

Arugula Salad

Choice of Red Snapper or Steak Medallions

Brownie w/vanilla ice cream

Performance begins upon conclusion of dinner service.

$425 pesos($33US)/person Members


$475 pesos($37US)/person Non-members

To purchase tickets, contact Rudy or Daniel at Vallarta Yacht Club 297-2222.
Last Updated on Friday, 22 November 2013 18:21
During the fall, the Vallarta Yacht Club is offering 50% off Flag memberships. A VYC member can earn a $300 peso Club credit by bringing a new Flag member to the Club.
Interested in joining but don't know anything about us? Talk to VYC Manager Rudy Trejo about a 2 week temporary membership card. Once you know us, you'll love us.
Just in the season for this year, or for a shorter time? Are you a member of a reciprocal club? VYC has membership levels that accommodate just about any situation. Here's all the info on membership and here's how to apply.
Last Updated on Friday, 08 November 2013 12:12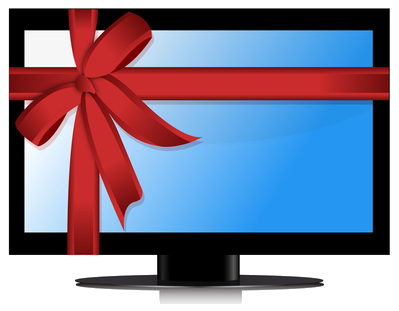 SUCCESS! We would like to thank all the generous members who contributed toward a new big-screen TV for the clubhouse. YOUR new TV is now installed in the club. We have also changed our club TV system to full HD, so you can watch those great football games and movies in all their glory. Next time you are in the club an enjoying that great TV, look around you. Many of the things you see were donated by generous members who care about keeping our club great. From TVs to freezers, popcorn machines to PA systems to bar chairs, all of it was generously donated. THANK YOU!
Last Updated on Sunday, 27 October 2013 09:44
This message is from the US Consular Agency: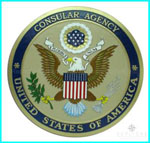 Wednesday, September 18, 2013 5:14 PM
U.S. CONSULAR AGENCY - HELP - FOR -MEXICAN PEOPLE IN SEVERAL STATES OF MEXICO
We hereby inform you that PARADISE PLAZAin Nuevo Vallarta, Nayarit, from Wednesday 18 and until Friday 20 of September, has a COLLECTION CENTER in its facilities, this in order to send help to the victims from around the country.
The hours for the help desk will be from 8am to 10pm, in-house E-1 and / or administration of this mall.
Here is the list of most important items needed for the moment. We ask for your support in sharing this information with all your friends.
Last Updated on Thursday, 19 September 2013 06:44
HOT JULY FOR VYC JUNIOR SAILING
From sailing in International Youth sailing competitions abroad to introducing new youths to sailing in our three consecutive Sailing Camps the Vallarta Yacht Club's Junior Sailing program enjoyed one of its best ever summer months.
In early July, Junior Sailor Carlos (Tata) Sainz joined other Mexican champions to represent Mexico in the 2013 North American Optimist competitions being held in Bermuda in Caribbean waters. As our coach, Eugenie Russell had been selected as the Head Coach for this elite Mexican team, it was left to VYC sailing Coach Oscar Sanchez to begin our annual summer camps here at home.
During this first week, Coach Oscar received the bright new VYC Windsurf boards and immediately put them to use by the five anxious teens from VYC and Guadalajara. Also, during the week, Club Manager Rudy Trejo opened registration for the next week's Beginner Optimist Camp.
On Monday, Eugenie, just back from Bermuda; and expecting eight to 10 young new sailors, was shocked to be presented to 20 very anxious kids ranging from 6 to 14 years of age. Fortunately, she and Oscar were assisted by the returning Carlos Sainz, and former Optimist sailors Juan Varela and Nora Urbina as well as new VYC member David Evans. Beginning the week in some amount of disorder; by the end of the week our expert instructors and their assistants had all 20 kids out in the Bay solo sailing in an Optimist boat. Yes, there were several capsizes. But, by this time, under supervision, the kids were able to self-recover and "sail-on". With Carlos Sainz returning from the Bermuda North Americans, another VYC sailor, this week saw Adrian Varela, leaving to compete in the Optimist Worlds Championship in Italy.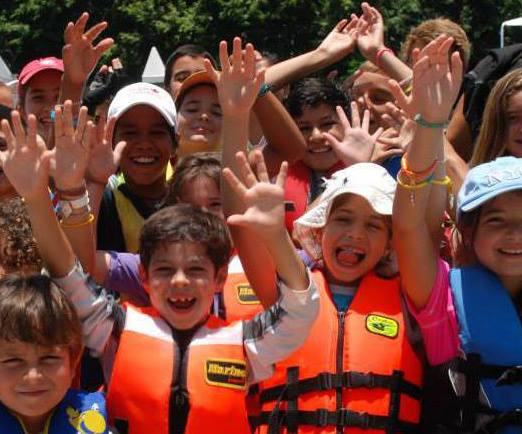 If we thought the previous week enrollment was large, the final week saw a total enrollment of 23 youths! Even though Juan Varela was preparing to leave for the Worlds Youth Windsurf Championship in Poland, Eugenie and Oscar were well assisted by the return of Nora Urbina and Carlos Sainz and Marina transient slip boater (future VYC member?) Laura. Of the 23 students, eight kids were returnees from the previous week and joined the Intermediate Optimists group while Nora coached the 3 Lasers and Oscar coached the Windsurfing teens.
Each afternoon, Israel and Vidal provided nourishing 3-course lunches to all the kids sitting with their instructors at two long tables. I hope you can imagine this sight of young kids talking, laughing and anxious to see what was being served for dessert while at another smaller table women were playing cards and at yet another table, men were playing dominoes. And, throughout the period, great sailing videos were flickering on the TV screens. Miraculously, Daniel, Christian, Nadia and Aloi kept everything working smoothly.
In the afternoon of the last day, Optimists, Lasers and Boards were all out on the Bay for what appeared to be "free-style" sailing; but was, in fact, an informal race. Rudy was kind enough to take the parents aboard the Club boat so they could see their kids demonstrate their sailing skills close-up. The race awards later that afternoon were well attended by kids and their parents (many of whom ordered snacks and dinner from our menu).
In addition to the functional success of the 2013 Summer Camps, the financial boost to the Club was greatly appreciated. After deducting all related expenses from the collective fees, a meaningful boost to the Club's Bar and Restaurant operation was also realized.
In addition to Eugenie, Oscar, Juan, Nora, Carlos, David and Laura; many, many, thanks are extended to Ibis for the outstanding Public Relations and media promotional coverage and to the Junior Sailing parents and kids that manned the Valle Real Mall display for those important two consecutive weekends in June.
And lastly, a hearty felicidades goes out to our Junior Sailors; Carlos Sainz, Adrian Varela, and Juan Varela who qualified for and competed as members of the Mexican Team at the North American Optimist, Optimists Worlds, and the Worlds Windsurfing 2013 Championships!
Last Updated on Friday, 06 September 2013 17:24
Page 1 of 3