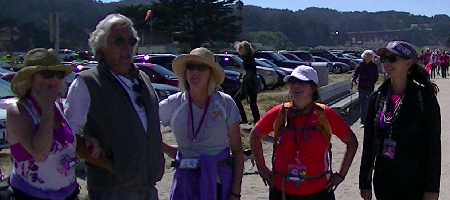 Every day, I'm reminded just how awesome our members are. As this particular example includes my wife Liz, I might be accused of being a little biased. Yep, I guess I'm guilty as charged.
As I write this (September 8) "Team Ruby Slippers", comprised of members Liz Barrow, Leslie Baldwin, Jenny Durnan and friend Cathy Hoffer, are beginning their second day in the Susan G. Komen 3-Day Walk for the Cure, in support of breast cancer research. This is a 60 mile walk (that's six-oh) over 3 days. Every walker has to raise a minimum of $2,300 - Liz's team has raised over $10,000. In spite of blisters and sprains, they continue to walk, supporting the search for the cure to a disease that has effected so many. All of us are proud of the team, and everything they have done to get here.
Every day, VYC members remind us how awesome they are through the big and little things they do. Supporting charities, volunteering to staff events, or just doing the little things for each other. Our members are an amazing group of people.
Do you know of a particularly awesome thing that a member has done? Let us know in the comments below.
Andy