VYC Board Meeting
Friday, 18 November 2016 11:00am - 01:00pm
The officers and directors of the Vallarta Yacht Club will have their Fall meeting to discuss the business of, and plans for the Club.
Location: VYC
61st Edition of the Puerto Vallarta Marlin and Sailfish International Fishing Tournament
Wednesday, 16 November 2016 12:00pm - Saturday, 19 November 2016 07:00pm
It is for our fishing club a pleasure to share with you the edition of our 61th tournament. We appreciate your particiate your participation in our previous tournaments over the years where, thanks to the support of our sponsors and authorities, we have been able to give continuity to our tournament.
During these six decades the club has made efforts to promote our beautiful port, its people, the natural wealth and friendship among fishermen.
In our fishing we have a variety of species of very good size and have a mild climate that allows us to go fishing for most of the year.
We invite you to participate in our tournament and have good experience with friends.
We will be waiting for you!!!
Best regards
David Zaragoza Camacho
President - Fishing Club Puerto Vallarta A. C.
Location: Banderas Bay
Cruiser Swap Meet
Saturday, 10 December 2016 09:00am - 12:00pm
Location: La Cruz Marina
Sailor Splash - Welcome Party
Friday, 09 December 2016 12:00pm - 10:00pm
Location: La Cruz Ampitheatre
PV Sailing Season Meet and Greet / Dine and Dash
Monday, 21 November 2016 03:00pm - 05:00pm
It's the 8th annual Meet and Greet BBQ season opener. The mission is to catch up with old friends, make new ones and find out about all the cool events on the bay this season.  It's your chance to discover the resources to help you with your adventure and meet the providers. The cast of characters is huge and Mike of PV Sailing will do his usual "point and shoot" at them to speak about what's going on. Contact: mike@pvsailing.com for details or call 322 102 1634. If you're coming up by boat please contact mike for slip info.
Location: PV Sailing - La Cruz
Taste of Nuevo Vallarta / Great Chili Cook-off
Saturday, 03 December 2016 03:30pm - 07:00pm
Come and sample some of the exquisite food from leading restaurants of Nuevo Vallarta. Bring yourselves, your appetite, and the knowledge that the proceeds from your tickets will help some of the worthy charities in the Banderas Bay Area.
Location: Nuevo Vallarta Malecon
Christmas Tree Trimming and Open House
Thursday, 01 December 2016 05:30pm - 08:00pm
What better way to bring the Holiday Spirit into our Clubhouse than to decorate a Christmas tree together? Help make our tree the BEST EVER as you listen to music of the season, share memories (and a holiday drink or two) with fellow members, and decorate the Club for the holidays.
Location: Vallarta Yacht Club
Thanksgiving Party
Thursday, 24 November 2016 06:00pm - 10:00pm
Thanksgiving c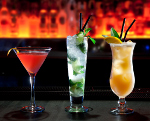 ocktails and dinner, with lots of opportunities to toast our good fortune in being able to enjoy those special times in Paradise, as well as all our other blessings that we are so thankful for.
Location: Vallarta Yacht Club
VYC Opening Day
Sunday, 20 November 2016 11:00am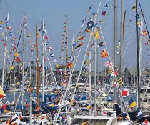 This is the official celebration of the first day of the 2016-17 yachting season, with lots of flag raising, music, speeches, and good fun to mark the beginning of another great year in Paradise. 
Everyone is welcome to this event. Come and celebrate the opening of the 2016-2017 season!
Location: Vallarta Yacht Club
Banderas Bay Blast
Sunday, 11 December 2016 12:00pm - Tuesday, 13 December 2016 10:00pm

Banderas Bay Blast - Three days of sailing events sponsored by Latitude 38 Magazine, including a charity event, Pirates for Pupils. Dress up like a Pirate and join the Punta de Mita Yacht and Surf Club, it's only a dollar! Have fun sailing and contribute to a great charity, he school kids of Banderas Bay!
Ends up at Vallarta Yacht Club on 14 December, where we offer burgers, hot dogs, fries and beer for less than a doubloon. 
A limited number of free overnight slips may be available if reserved in advance. Contact Paradise Village Marina for details and reservations.
Ready to sign up? Click here
Location: Banderas Bay