Vallarta Yacht Club's Bay Event Calendar

Here's what's happening at Vallarta Yacht Club and around the Bay
Parking lot
Laser World Championships are here and from April 2 to May 28 you can expect to see our parking lot transformed into a boat park. 120 Lasers arrived last week and will be placed in their new home awaiting the championships to begin. Parking passes will be provided for volunteers to park under the mall at no charge on the days they are working
FMV Cup: Radial Masters World Championship
Friday, 22 April 2016 10:30am - Saturday, 30 April 2016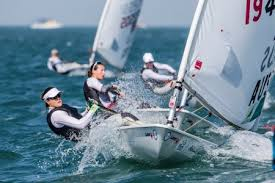 This week will present the Laser Radial Masters event.  These competitors are "Masters" who have been racing Lasers all over the world for years.  The ages in this event are 35-80!  This is the largest of the 4 events with 139 competitors from 19 Countries.  Registration and Measurement take place on April 22nd & 23rd with the Opening Ceremony at 6pm on April 23 at the Amphitheater at Paradise Village. Racing is April 24th through April 30th. There will be an awards ceremony at the ampitheater at 6pm. Both the opening and awards ceremony are open to all.
We can still use a few volunteers for the event.  Don't be left out.  Contact Liz Barrow at This email address is being protected from spambots. You need JavaScript enabled to view it. to volunteer.
Location: Vallarta Yacht Club
Earth Day Beach Cleanup
Friday, 22 April 2016 12:00pm
Earth Day Beach Cleanup and Dragnet Regatta - Marina LaCruz
Location: Marina LaCruz
Ongoing events
Every Monday, Tuesday, Wednesday and Thursday afternoons from 3:30-5:30, we have Junior Sailing lessons.
Every Tuesday and Thursday we have Game Day from 1-5pm. Come play Baja Rummy, Mexican Train Dominoes, Bridge or Peso Me.
Check out our weather page
Did you know that the VYC web site has extensive weather and tide forecast information? Check out our new and improved Weather Resources page for weather forecasts, tides and tropical weather alerts from NOAA, SEMAR, Passageweather, Joint Typhoon Warning Center and many more.
Vallarta Yacht Club, Paradise Village Marina, Paseo De Los Cocoteros N° 001 Local #20, Nuevo Vallarta, Nayarit, CP 63732, Mexico.
The Vallarta Yacht Club respects your privacy. We would never sell or otherwise distribute your personal information without your consent. If you do not wish to receive informational emails of this type, please click here: Unsubscribe