VYC Director's Corner...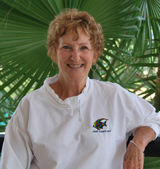 a note from Ricki Williams, Ashore Activities Director
Next season, my main goal is to bring our Members into the Club for fun activities and to bring excitement and anticipation of coming into the Club to meet friends - old ones and the new ones you'll meet there (read more).

Member Spotlight on Ibis de Teresa, winner of the Jim Ketler Service Award. Congratulations, Ibis! (read on)

MOVIE NIGHT!
Every Thursday at the VYC. Get out of the boat or condo and have fun! (read on)
Traveling ?
Collect the hotel soaps + shampoos, when you return here bring them to the VYC. We'll distribute to those in need.
Did you know?
Working together, the VYC and Paradise Village Marina helped the 8th annual Altruism Festival bring in $13,200 pesos with 44 tickets sold.
Spring 2012

| | | |
| --- | --- | --- |
| | Young Champions of the VYC | |
| | The Jr Olimpiadas of Mexico were held May 13-15 right here in Banderas Bay and big news -- our VYC kids brought home 7 medals in Opti and Windsurfer classes, competing against participants from 15 states in Mexico. And that's not all .. our own Juan Varela Barba will be representing Mexico at the World Competition in July. (read on - Olimpiadas and Juanito) | |

Let's Eat!

Enjoy the new VYC Summer Menu, and don't forget the new Summer Hours now in place. Check out the selections and see the Summer Schedule .... read more.

| | | |
| --- | --- | --- |
| | Over 100 Shoes?! | |
| | That's right, we all cleaned out our closets May 15-30 and 110 shoes and 25 large bags of clothes were collected for Families at the Dump. What happens to it all, and how? read on.. | |

State of the Club

Commodore Andy Barrow published all the information you can think of in this link. If you haven't read it yet, just click. Great job, Andy and team!

"Thank You" Card...

From the kids in the VYC Jr Sailing Program for the generosity and support of so many who help this program. The Spring Fundraiser was a success, and they want to say "thank you!" (read more)

Wow! Sneak Preview

Wait until you see the line-up of events for next season's social programs, the Activities Committee has really hit it "out of the park!" Concert Series, Hawaiian Luau, 50's Rock 'n Roll Party, Mystery Night, Sliders in Paradise, the list goes on. So rest up this summer, 'cause next season will be a blast ...

read about it

!

Why Not?

Put on your thinking caps and get creative. There's a big new event in February and planning is already starting. You can be a part of it. Why now? Why not! (

read on

)

WesMex a Huge Success

It's already June, but we don't want to miss telling you about the biggest WesMex competition yet! Held in March, it was the largest in the 7 year history of the event. (

read more

)
Vallarta Yacht Club, Paradise Village Marina, Paseo De Los Cocoteros N° 001 Local #20, Nuevo Vallarta, Nayarit, CP 63732, Mexico.

The Vallarta Yacht Club respects your personal information. We would never sell or otherwise distribute your email address without your consent. If you do not wish to continue to receive information of this type, you can unsubscribe by clicking here: Unsubscribe