Dinner and a Show - Rick's Duo
Wednesday, 08 November 2017 06:30pm - 11:00pm
Enjoy the sounds of Rick's Duo. Happy hour 5:00 to 6:00 pm followed of three course menu.
Location: Vallarta Yacht Club
VYC Opening Day
Sunday, 12 November 2017 11:00am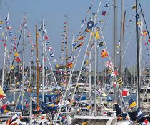 This is the official celebration of the first day of the 2017-18 yachting season, with lots of flag raising, music, speeches, and good fun to mark the beginning of another great year in Paradise.
Everyone is welcome to this event. Come and celebrate the opening of the 2017-2018 season!
Location: Vallarta Yacht Club
Regatta de Revolucion
Saturday, 18 November 2017 11:00am - 08:00pm
Location: Vallarta Yacht Club
Junior Sailing Fundraiser
Saturday, 18 November 2017 05:30pm - 10:00pm
Junior Sailing Fundraiser
Location: Vallarta Yacht Club
Thanksgiving Party
Thursday, 23 November 2017 06:00pm - 10:00pm
Thanksgiving c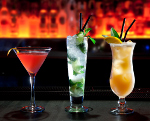 ocktails and dinner, with lots of opportunities to toast our good fortune in being able to enjoy those special times in Paradise, as well as all our other blessings that we are so thankful for.
Location: Vallarta Yacht Club
Christmas Open House
Friday, 01 December 2017 05:00pm - 07:00pm
Join in decorating the tree! Enjoy hors d'oeuves and a dessert while trimming our Annual Christmas Tree.
Please bring an appitizer or dessert to share. Join in preparing your Christmas Spirit!
Location: Vallarta Yacht Club
Bingo in Paradise
Tuesday, 05 December 2017 06:00pm
Back by popular demand, this old standard is made more interesting and exciting through the addition of strategies used not only to win in one evening, but also over the course of the entire 2017-18 series. Real pesos are at stake, and players will have a chance to sweeten their cruising kitties if they play their bingo cards right. If you've watched or participated in the play in previous years, you'll remember the smiling faces, laughter, and friendly cursing that make this evening so much fun. Bingo Bob and his favorite "Vanna" will be calling the balls. Win prizes and enjoy a great evening.
Come early for happy hour and a dinner special!
Location: Vallarta Yacht Club
Fleet Meet & Greet - PV Sailing (Note Change of Date)
Wednesday, 06 December 2017 03:00pm - 06:00pm
Sail over to LaCruz for a Cruisers Meet and Greet at PV Sailing. Find out what's going on in the bay this season, and meet up with old and new friends. Food, beer and music!
Location: PV Sailing Loft, La Cruz
The Great Chili Cook-Off and Taste of Nuevo
Saturday, 09 December 2017 04:00pm - 07:00pm
No wonder this annual event is so popular. What other competition rewards both competitors and spectators with something delicious to eat? The Great Chili Cook-off brings out amazing culinary talents among your fellow members and friends from the community, and Taste of Nuevo showcases the best that local restaurants have to offer. If you are proud of your chili-cooking skills, be sure to sign up as a competitor. And if you happen to love chili or want to check out some of the great restaurants in the area, put this on your calendar and be sure to come with a hearty appetite!
Location: Nuevo Vallarta Marina Malecon
Movie Night
Tuesday, 12 December 2017 07:30pm
Come and relax in the comfort of your clubhouse, with your friends and family -- and movie snacks, of course -- and enjoy a popular movie, accompanied by some friendly trivia competition.
Location: Vallarta Yacht Club