VYC Director's Corner
... a note from
the VYC Rear Commodore
WOW! This sums up how people reacted to the great job that our Vallarta Yacht Club Volunteers did to support the Pan American Games. Here's a big "Thank You" to all of the volunteers that helped!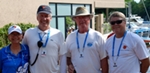 Once again our depth of experience proved its worth … after all we've seen everything that can possibly go wrong with a regatta!
~ Hurricane threat? No problem for VYC! In less than 24 hours we had all the competitors boats either under cover or secure.
~ Last minute or late arrival of support equipment? No problem, we've been there before.
~ Need another 90 lunches for competitors? No problem … You guys and gals ROCK!
I received positive feedback from so many...
(Read More )
... Submitted by Randy Hough, Rear Commodore
-------
Did You Know?
VYC events are listed on a calendar on the VYC website. Make your plans now so you don't miss even one of our great events!
(Click Here)
We now have a record 22 juniors in the VYC "Learn to Sail" program. Kudos to Eugenie Russell for doing such a great job!
SPECIAL: WELCOME BACK EDITION

Yum! Yum! I Smell That Chili Cooking..

SAVE THE DATE!! On December 3rd, from 4:00 – 8:00 pm, the Vallarta Yacht Club is hosting our 12th annual "VYC Great Chili Cook-Off." The event is open to everyone and will be held at the club parking lot.

Our dynamite chili chefs are anxiously waiting to tantalize your taste buds with their special chilis, so come and vote for your favorite. There is a great competitive spirit going on! There are two cooking categories, The Professional Chefs (restaurants) and The Platinum Chefs (private). There is also ... (Read More)

We're Gonna Have a Revolution

... along with a great Party! Join VYC on Saturday November 19 (the official holiday of the Mexican Revolution) to Support the VYC Junior Sailing Program, have a blast, and enjoy the Revolution Dinner and Party. It will be even more fun because it is part of the "Regatta de Revolucion" for our Junior Optis. You 'll have the chance to win great prizes in our "world-famous" raffle and auction, but above all, you'll feel the joy of helping a kid learn life values through the sport of Sailing! Hope to see you there! ... (Read More)

Do You Have Any Friends?

Or rather, fun loving friends who love to socialize with others, love to be around boating, sailboats, our yacht club, who love to volunteer, and are just nice folks?

Well it that time again where we offer a special value for new folks who would like to join the Vallarta Yacht Club. Anyone who joins during the month of November 2011 will receive 1/2 off the Initiation Fee when they join as a Flag Member. The flag member is that level where most of us join, so this is a great opportunity!

If you refer a friend and let us know, you'll receive a special gift of a $250 (MXN)credit at the club for food and beverage! Contact Bonnie Fearis. Membership Chairman for more information

Santa is Coming Soon

Starting December 1st, the VYC will be collecting toys for the kids of Families at the Dump. Help a child receive a toy and make this Christmas a memorable one!

Dates: December 1-24, 2011 at Vallarta Yacht Club

2011 Club Opening ... A Grand Affair

Just as the weather was changing, and cooling breezes were beginning, the Vallarta Yacht Club held it's annual Opening Day event. "It's Your Club" was the theme, and after the flag raising ceremony, a good time was had by all.

The flag raising ceremony saluted our Mexican homeland by raising the Mexican flag to the background music of the national anthem, with a group of Junior sailors having the honor of raising the flag. The USA and Canadian flags were then raised, celebrating the heritage of many of our non-Mexican yacht club members. Following tradition, the officers flags were raised, again saluting all of the effort that is given to the club by the executive board.

Four teams competed in the "Commodore's Cup" relay regatta, where...
Vallarta Yacht Club, Paradise Village Marina, Paseo De Los Cocoteros N° 001 Local #20, Nuevo Vallarta, Nayarit, CP 63732, Mexico.

The Vallarta Yacht Club respects your personal information. We would never sell or otherwise distribute your email address without your consent. If you do not wish to continue to receive information of this type, you can unsubscribe by clicking here: Unsubscribe