Brothers at Sea
The Varela brothers, Juan + Adrian, will sail anything that floats and do it well. More...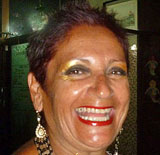 Lively Lupe
Lupe Dipp is a force of nature, energy personified. If you don't know her you're missing a treat. Read on.

Toothpick
Did you know we have a detective in our midst? Jim Nordstrom is our own CSI. Read more.


B & BBQ
Did you know Sherry Côté started the first Bed & BBQ? A luxury one, at that. It's just the first many accomplishments. More...


Radio Rob
58 years on the Ham radio and still going strong. Around the world conversations are just one of Rob's experiences. Read on.


Cookin' Up a Storm
Peg + Dick Anderson and Sharron + Rolf Sax were one of many bidders at the VYC auction. Read about their winning prize.


Living in Mexico
New immigration rules are in place as of Nov 9, 2012. Read articles with info here.
New VYC Board
Congratulations to the new Board! Some new faces have joined the team to make up the Board of Directors for the 2013/14 season. Read who they are here.
Another Great BBR
21 years and still going strong. For this year's Banderas Bay Regatta, 55 boats signed up to share the fun of the best Cruiser regatta in Mexico. What a great way to finish up the season! Read all about it here.
Volunteer Appreciation
March 25th the VYC thanked our volunteers for their commitment of time and energy to the many events during the season by treating them to an elegant luncheon. No speeches just good food, good company and "thanks!"
Community Service Award
Kudos to Brenda + John Power, recipients of the 2013 Jim Ketler Service Award. It is given in recognition of the person's gift of time, effort and selflessness in "giving back" to the Greater Banderas Bay community. More.
| | | |
| --- | --- | --- |
| | | WesMex + Jr Olympics |
Cooking in Paradise
Contribute your favorite recipes to the first VYC Cookbook. Volunteer Nancy Fletcher is collecting these delicious recipes now, email her here or drop them off. Info.
Manzanilla Cruise-Out
The 3rd annual cruise-out to Tenacatita and La Manzanilla Regatta was a rousing success. Cruisers enjoyed good sailing, good winds. See a video here.
Shoe + Clothing Drive
Clean our your closets! Time for the annual spring clothing drive May 15-30 to benefit Families at the Dump. If you're leaving soon, just drop off your donation bags at the VYC. Read more.
Coming Events
Find out what's happening, click on the VYC Calendar here.
Vallarta Yacht Club, Paradise Village Marina, Paseo De Los Cocoteros N° 001 Local #20, Nuevo Vallarta, Nayarit, CP 63732, Mexico.
The Vallarta Yacht Club respects your personal information. We would never sell or otherwise distribute your email address without your consent. If you do not wish to continue to receive information of this type, you can unsubscribe by clicking here:

Unsubscribe