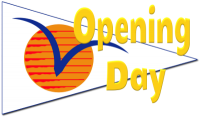 Sunday November 20 is the annual Vallarta Yacht Opening Day of the Boating Season Celebration. Opening Day is a ceremony and celebration that marks the traditional start of the boating season. Similar celebrations happen at Yacht Clubs throughout the world. This event starts at 11:00 am and will be held at the Vallarta Yacht Club's clubhouse located adjacent to Paradise Village Resort and Marina.
Key elements of VYC's Opening Day include the traditional Flag Ceremony followed by a Public Open House and presentation of the 2016/2017 events calendar. At 12:30 pm VYC's junior sailors will host other youths from Guadalajara, La Cruz, and La Marina for day 2 of the annual "Dia de la Revolucion Regata". Members and guests will have the opportunity to sign-up to go aboard one of the Club's motorboats and observe the kids challenging each other's sailing skills.
For more information contact Rudy or Daniel at 322-297-2222 or check this website www.vallartayachtclub.org for updates.
The schedule for the day is shown below
Vallarta Yacht Club Opening Day 2016
Apertura de Temporada 2016-2017
November 20, 2016
SCHEDULE OF EVENTS
*****

All events are open to the Public *****

1100 Opening Flag Ceremony: Mexico - USA – Canada – Officers' Flags

Performed by members of our young Sailing Team and the VYC Commodore.

1130 – 1800 Public Open House at the Club

Great Free Snacks and Cash bar. Information booths on VYC membership, Junior Sailing Program, and Boat Charter Information. Play cards, dominos, meet and greet other members, relax inside enjoying the new furniture and air conditioning. Or on the back deck listening to the tunes coming from our new speakers.

1130 Presentation VYC 2016/2017 Events Calendar VYC

Officers and Activates Directors will present the Vallarta Yacht Club Goals and Events planned for the 2016/2017 Season

1230 – 1600 Día de la Revolución Regata - Day 2

VYC's Junior Sailors host other youths from Guadalajara, La Cruz and la Marina for some exciting on-the-water competition traditional VYC Regional holiday club race.. Sign-up to go aboard one of the Club's motor boats and observe the kids challenging each others sailing skills

1700 Día de la Revolución Regata Awards Presentation

Be part of the applauds and cheers as the results of the regatta are announced and awards for the top contenders are presented. Lots of smiles and lots of pictures!

1800 Stick around and try some of Chef Israel's new offerings

Or have one of your old favorites which still make their claims on the 2016-2017 menu selections.